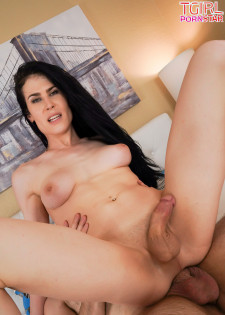 The amazing Chanel Noir returns on TGirl Pornstar with a bang! A smashing hardcore scene produced by Radius Dark! Joined by King Epicleus, Chanel can't wait to get her tight ass pounded hard by Epic's huge cock! The scene starts out with Chanel giving Epic a rub down. She then rubs her AMAZING tits on his back and strokes his hard cock before sucking it POV style! Then, Epic fucks her, as she shows off her flexibility, on the massage table. They move to the bedroom and Epic fucks her hard until she cums and then he cums on her face! They end with some kissing, pillow talk, and more kissing! Absolutely amazing!
18th Jul 2021
39:16 HD Video
& 190 Photos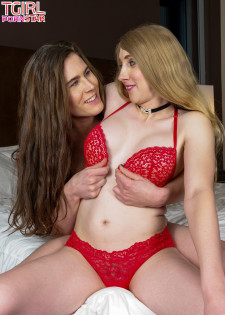 We have an electrifying scene for you today featuring none other than dazzling GroobyGirl combination Chanel Noir & Janelle Fennec. Let cocks and cum collide, the year is off to a screaming start here on the home of the hottest, TGirl Pornstar!
7th Jun 2020
29:48 HD Video
& 197 Photos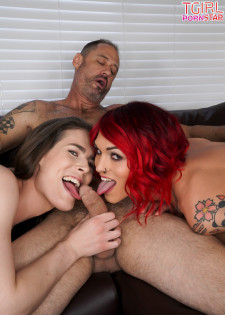 Radius Dark got something amazing for you today: two gorgeous Grooby stars, Chanel Noir and Aubrie Scarlett are joined by D. Arclyte for some amazing threesome action! Two of the hottest new faces of 2017 continue to amaze us in 2019 too! Enjoy watching this amazing hardcore scene full of passion, sucking and hard fucking!
26th Aug 2019
32:28 HD Video
& 253 Photos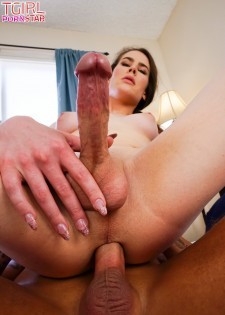 This hot brunette Grooby babe certainly has that seductive look to her and she has no troubles seducing this horny butt loving Kai Donec. The couple enjoy a sensual make out session before the real action begins where Chanel and Kai passionately exchange sucking their cocks. Then Chanel spreads her legs wide to give a way for Kai's hungry hard cock and gives her one great fucking experience.
8th Jun 2018
24:00 HD Video
& 140 Photos