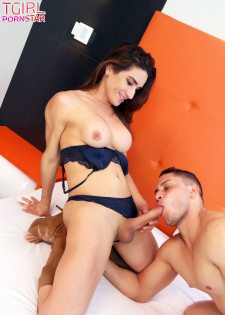 After a long time in U.K. our monster cock superstar Adriana is back and proves she is in great shape so horny and virile. She'll run a perfect TS ON GUY scene making her partner Mister Peter feel SO DEEP her enviable big Rocket. If you enjoy intense and nasty action that's what you're looking for with a really fabulous and impressive performance from Adriana culminating in a fucking insane cum shot in her partner's face!
1st Mar 2020
29:52 HD Video
& 111 Photos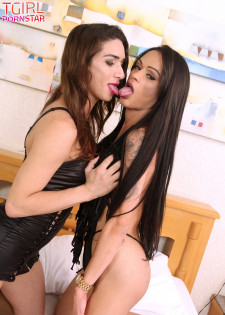 You guys asks it for a long time in our forum but Adriana was in London for year. Well, she is back and I convinced her to make this unusual performance. She totally prefers topping her partners but I wanna show you that she can be a great bottom also so she accepts it. But lets put extra dose of pepper here paring her with other well hung TS - Miss Raica Lima. This is a REALLY KICK ASS mix we're just offering you with exclusivity. Just enjoy another fabulous t-lesbian super naughty action.
21st Jan 2019
24:02 HD Video
& 123 Photos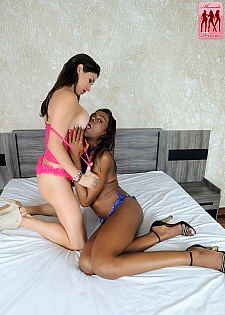 Adriana and Patricia are two smoking hot Brazilian tgirls with amazing bodies, hot asses and a big hard cocks! Watch as Patricia gives Adriana a smoking hot blowjob before Adriana fucks Patricia's hungry ass! Not to be outdone Patricia is soon fucking Adriana
25th Jul 2016
24:26 HD Video
& 209 Photos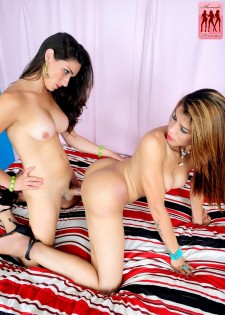 Adriana & Kenya are two horny transgirls with huge hard cocks to complement their sexy bodies! Watch these two tgirl sexpots sucking cock and fucking!
1st Jun 2015
23:25 HD Video
& 188 Photos